You Need A Procedure Manual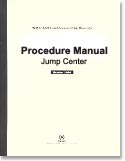 A procedure manual is a document containing written rules and regulations regarding procedures within your business. Procedure manuals are often used in the orientation and training of new employees. A well written manual will help your center operate more efficiently and effectively. It includes a mission statement, job descriptions, and breaks down how to carry out daily tasks such as party booking, party setup techniques, party clean up, jump room attendant procedures, how to handle accidents and injuries, etc.
Below you can purchase a procedure manual that's already written and used at several centers. Use it as a good starting point and add your custom modifications as needed for your jump center.
Includes these sections:
- Mission Statement
- General Rules and Regulations
- Room Setup Procedures – Before/During/After a Party
- Facility Cleanup
- Job Descriptions – Attendants & Supervisors/Managers
- Talking to the Parent
- Injury Report Procedures
Purchase Below $49.97 – Instant Download!
All payments are processed by PayPal – the fast, easy, secure way to purchase online.
No PayPal? No Problem! You can use any major credit cards to make your purchase.