The Largest Entertainment Center in the Nation is Opening this Spring 2012!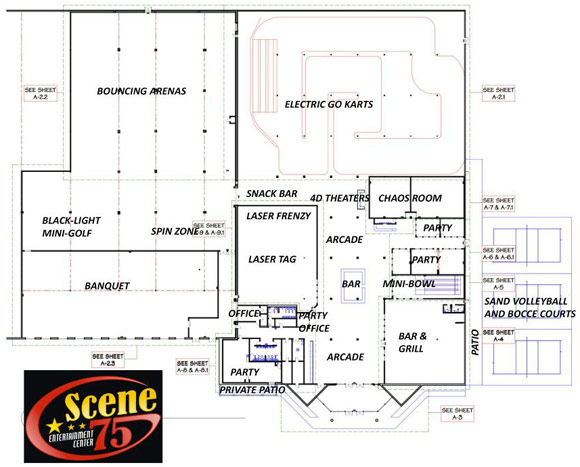 Scene75 Entertainment Center is under construction and scheduled to open this spring in Dayton, Ohio. This $5 million indoor family entertainment center will feature 124,000 square feet of indoor attractions, as well as seasonal outdoor offerings. The center is moving into a former furniture warehouse building and will be located at: 6196 Poe Avenue, Dayton, OH.
Jonah Sandler, the entrepreneur and co-owner of the venue seized the opportunity and decided to realize it along with investors.
"We felt that there is a significant void in the market for something of this nature," he said. "We felt that this was a very good opportunity with significant potential that hasn't been accomplished within this area or even in the industry."
Sandler traveled the country touring existing entertainment facilities and believes Scene75 will be the largest in the country. Industry data seem to support his claim. David Mandt, spokesperson for the International Association of Amusement Parks and Attractions (IAAPA), an international trade association for permanently situated amusement facilities, said Scene75 would quality as a "family entertainment center" (FEC), which refers to any center with a variety or collection of attractions. There are approximately 1,500 FECs in the U.S. Based on the IAAPA's State of the Industry Survey for Family Entertainment Centers, facility sizes range from 5,000 square feet to 20 acres (factoring in both indoor and outdoor facilities), but the average size for an indoor FEC is 23,911 square feet, Mandt said.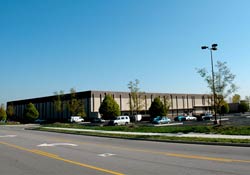 "This is certainly a very, very large center by industry standards," he said of Scene75′s proposed 124,000 square feet of indoor attractions.
Ben Jones, IAAPA's FEC specialist, agreed, noting that many centers are larger than 124,000 square feet when both indoor and outdoor attractions are included; however, he said he doesn't know of any centers with indoor offerings in that size range. By comparison, Dave & Buster's centers tend to be in the 50,000-60,000 square-foot range, he said.
Sandler said Scene75 will cater to all ages, but it was designed with adults in mind. Patrons won't pay an admission fee but instead will load a card with currency, which will be deducted as they use the attractions.
"We have tried to appeal to the adult audience with the belief that if we can get the adults, the kids will come," he said. "With the amount of attractions we're offering, we'll be able to appeal to all audiences … whether someone is looking for a date night idea, a birthday party for kids or a corporate event."
"We anticipate being able to attract people from 75 miles away," he added. "With 11 or so motels across the street and 30 or so restaurants, there's a lot of traffic in the area."
The Attractions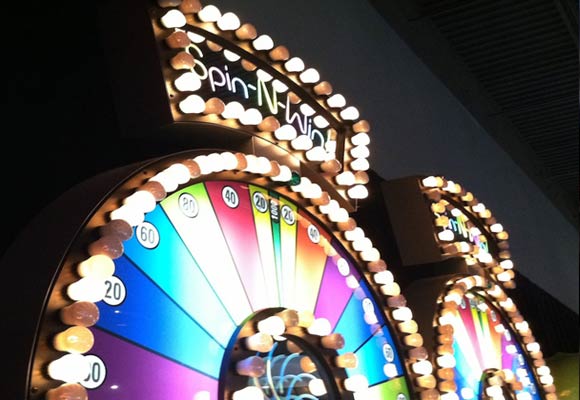 From the latest video games to tried and true redemption classics, the arcade at Scene75 has it all with over 60 arcades. Scene75 is the region's only "green" arcade with e-tickets being used to redeem the prizes!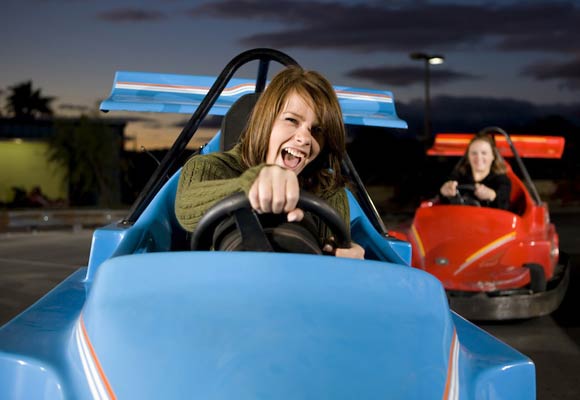 At 30,000 square feet, the indoor track at Scene75 is the largest in Ohio.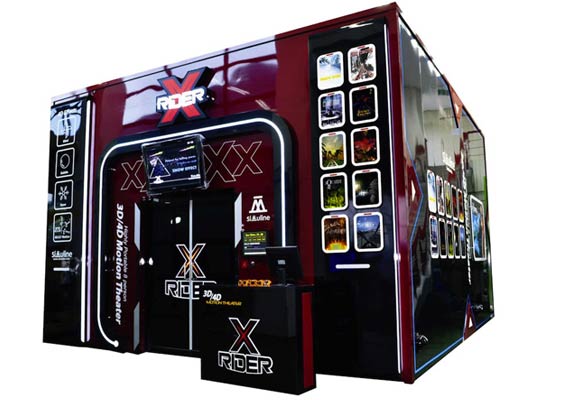 Each theater features a 15 foot screen, a variety of 3-D movies, four motion based seats, high fidelity audio, and 4-D effects that include snow blizzards, wind storms, and more.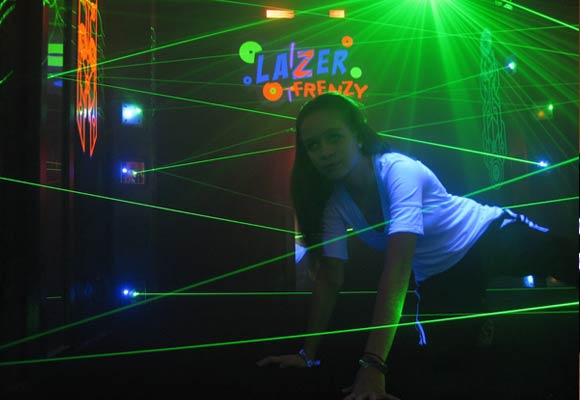 Ever wanted to see what its like to be a secret agent? Now you can! Crawl, bend, jump and weave through a maze of multi-colored lasers as fast as possible while trying to avoid breaking the laser beams.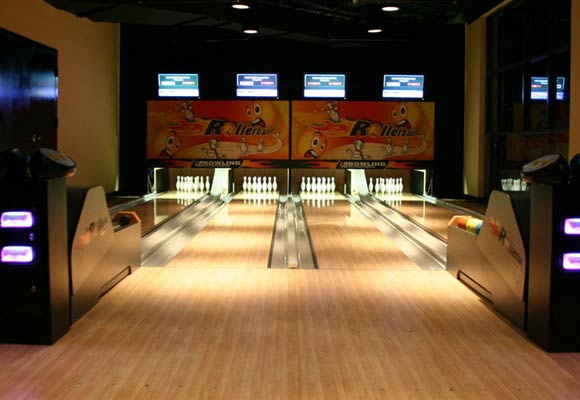 Mini-bowling combines all of the action of regular bowling, complete with hardwood approaches, real ball returns, and automatic scoring, and pares it down to size to create a more intimate, lounge-like setting.
Scene75 will feature a 20,000 square foot bouncing area with two private jump arenas, two private party rooms, a parents' lounge, and an enormous open bouncing area that is always open to the public. The facility will include over 20 inflatables, including a 34 foot tall slide and an 80 foot long obstacle course.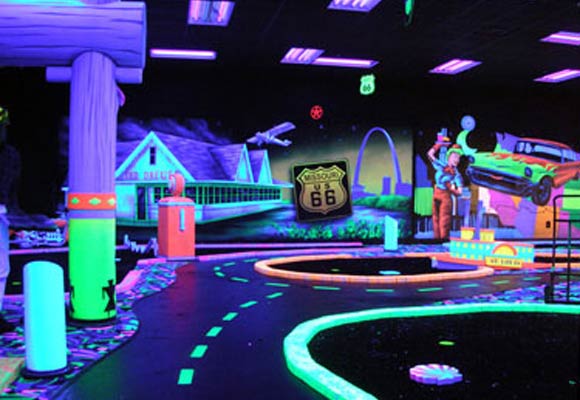 This one is one of my favorites. There will be two, glow-in-the-dark 9-hole courses, each featuring a different theme. One is an underwater journey with sharks, whales, fish, and more, the other takes you down a scenic tour of Route 66, with famous US landmarks and icons from 1950′s.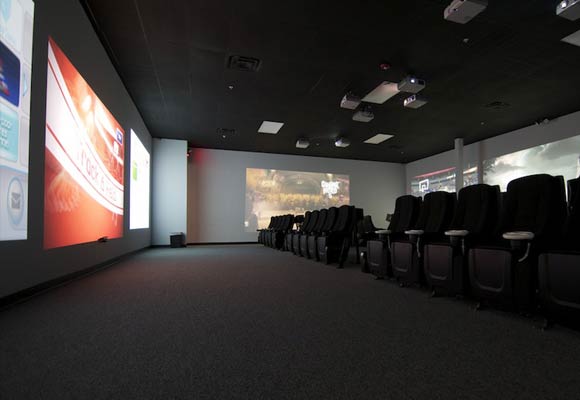 Gaming will never be the same! Twelve 15 foot HD screens make this room, the first gaming room in the country.
For a full list of attractions and to check out how they priced the admission visit Scene75 on the web: www.Scene75.com and facebook.com/Scene75
Conclusion
Opening a Family Entertainment Center or an Indoor Jump Center is a big undertaking and these guys are taking it to the next level.  However, you don't have to be opening a $5 million 124,00 square foot facility to learn something from their setup, marketing or grand opening. The range in sizes for FEC's starts at about 5,000 square feet, so follow along as they get closer to their Grand Opening!
One Response to "The Largest Entertainment Center in the Nation is Opening this Spring 2012!"