New Employee Training and Safety Manual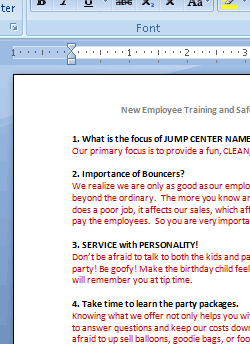 A training and safety manual includes a walk through of basic tasks, cleaning procedures, grounds for termination of employment, as well as safety procedures. Will your employees panic when equipment starts deflating all of the sudden? or will they be prepared to handle the situation properly and quickly? Having a training manual makes a big difference. You should hand out a copy of this document to every newly hired party attendant or jump room bouncer. Make it clear it is their responsibly to read it and know what's stated in it. Not only does this prevent any issues of the employees stating "I didn't know how" or "I don't know where" but it can also make an impact on your insurance. How? Your manual should include safety procedures, such as what happens when lights go out, or the above example, in case of a deflating inflatable. When searching for insurance make sure you tell your agent you provide a training and safety manual to all your employees, it may favorably impact your rates.
If you're not sure where to start in writing your own manual, we have one you can purchase that's been used by actual centers.
It's 3 pages long and consist of 24 question/answer scenarios that cover employee duties, what to do in case of emergencies, as well as safety and cleaning procedures.
This document contains some detailed information about location of light switches, etc that you will have to update and adjust for your own center. You might also find this document points out a few things you may not have yet considered for your own center… either way, this manual is worth the money.
This manual is in Microsoft Word format. Don't forget to change the name to your own jump center!
Purchase Below $29.97 – Instant Download!
All payments are processed by PayPal – the fast, easy, secure way to purchase online.
No PayPal? No Problem! You can use any major credit cards to make your purchase.