The Inside Story – The Scoop on Indoor Inflatable Facilities.
by Amy Detwiler for Inflatable News
Inflatables – they aren't just for backyards anymore. Indoor bounce facilities are cropping up around the country. Inflatable News spoke with the owners of three facilities to discover how they are jumping their way to success.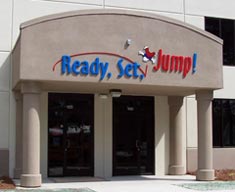 Charleston, S.C.'s Ready Set Jump started in 2004 in a 12,000 square foot space that featured two jump rooms filled with slides, bounces and obstacle courses. Owners Loretta and Darren Hardy soon added redemption games in a common area and separate party rooms. A second, smaller (7,000 square foot) Ready Set Jump made its debut in December of 2005.
Loretta said the main benefit of "indoor bouncing" vs. "outdoor bouncing" is the weather factor. "We always have a perfect 73 degrees and clear skies," she chuckles. Plus parents enjoy the fact that they can schedule an affordable event that's fully supervised by trained staff with more items to play on than a conventional home party.
Cleanliness and safety are two important factors, according to Loretta. She said guests always compliment her squeaky clean facility and appreciate that in today's world they can still find a safe environment for the kids to play.
We strive to have staff members trained in the event of an injury. The use of video cameras is a great asset in loss prevention. We keep the monitor in plain sight, which parents like. This also deters kids and parents from breaking our rules.

Loretta, owner of Ready, Set, Jump!
While Loretta and Darren do use television commercials to promote Ready Set Jump, they find word-of-mouth advertising most effective. "If customers expectations are surpassed, they not only return, they spread the word," said Loretta.
As with many other businesses, upselling can be a tremendous profit center for indoor inflatable facilities – the more revenue streams the better, said Loretta. To this end, Ready Set Jump offers food, drinks, cakes, and themed products, as well as partnering with face painters, clowns and local birthday services that complement each other.
The Hardys latest "extra service" is actually consulting other would-be jump center owners. They launched JumpCenterAdvice.com late last year after receiving many requests for information on opening a center.
"Most of the individuals need basic information before deciding if self-employment is the road to take," noted Loretta. "We answer questions, recommend suppliers (based on experience,) coach them on business plans, and even offer 'on the job' training." Rather than thinking an indoor facility is all "fun and games," Loretta says most people are surprised how much work a center entails.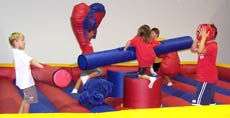 Speaking of fun and games, the Hardys do have plenty of the former with Ready Set Jump. "We love being able to watch kids have fun and surprise the parents with the level of service and professionalism we offer. These parties are very detailed and we take all the stress off the parents."
On the other hand, indoor bounce facilities have their share of challenges, most notably a lack of infrastructure. "The insurance companies lump us somewhere between outdoor inflatables and full blown amusement parks. The premiums are outrageous, compared to claims, which are few and usually minor."
Loretta says that with the increasing costs of liability and worker's compensation insurance, many centers will be forced to make tough choices. "It will be a true test of the strength of the indoor jump center business to see if they are able to survive these challenges."
Stacy McCaffety of Jump 2 It in Katy, Texas, wholeheartedly agreed on "the weather factor." "It's not just the blazing heat of summer, either," noted McCaffety. "But I have a child with a January birthday and it's just too cold to do things outside then."
McCaffety's facility boasts a full complement of inflatables – an 18 foot slide, two 5-in-1 combo units (Disney Princesses and Batman), a hoops game, hopscotch unit, Jurassic Adventure, and a 3-in 1 unit, as well as video arcade games. While Jump 2 It doesn't have a kitchen for cooking, there is a refreshment area with a soda fountain, slushie machine and a spot for preparation of food like hot dogs and nachos. McCaffety also makes sure that the tummies of the littlest bouncers are taken care of with kid-friendly fare like mac and cheese and fruit cups.
Jump 2 It is a fairly new business, but McCaffety is already trying some unique advertising and marketing tactics. She puts coupons on the back of store register taps and has invested in a mail out where she "picked the zip codes." McCaffety plans to start "drop-off evenings" for Friday and Saturday nights, allowing kids to play and harried parents who don't have reliable babysitters to have a night out. "I've already been in touch with the state to learn what I have to do legally to have children in the facility without their parents." An added benefit is McCaffety has the ability to watch all her units from home on a DVR setup. "I've made my place how I would want it," said McCaffety.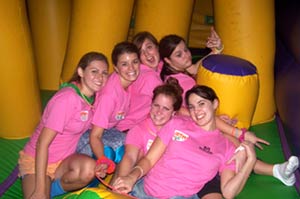 For when parents want to be part of the night-time fun, McCaffety has instituted "Pajama Jam Parties." She schedules the event for the last event of Friday or Saturday nights. It's an all night (9 p.m. to 9 a.m.) lockdown with parents. "We bounce and have birthday cake. At midnight the bounces are deflated and board games and video games come out. In the morning, we have donuts and bid goodbye to our all-nighters."
Perhaps McCaffety's biggest challenge is`making parents understand the risks of inflatable amusements. "I tell them, 'These are rides and we watch your kids as if they were on hard rides. Children can collide or get bumps on inflatables.'"
All things considered, though, McCaffety likes what she does.
I knew I wanted my own business and I took the time and energy to discover the type of business I would enjoy and feel comfortable running. I like being around children, but I designed my business for parents. Kids can have fun in so many environments, but parents want a clean facility with good supervision, where they didn't have to lift a finger. When I do that for them, they tell their friends.

McCaffety, owner of Jump 2 It
David and Amy Jakober own and manage Sir Bouncealots and Castle Crafts Café located in Castle Rock, Colorado. Their facility has a 900 square foot inflatable obstacle course with dual 17 foot slides; a 20 x 20 custom castle bouncer with a 12 inch high by 6 foot wide raised center platform; a 13 x 13, 15 foot high green dragon bouncer; a 600 square foot inflatable with bounce area, mini-obstacle course, and a 14 foot slide; a toddler area with combo jungle gym-slide-ballpit; a crafting room with sensory tables, easels, arts and crafts supplies and crafting kits; and an adult area featuring café seating, Dishnet LCD TV, coffee service, Internet terminals and WiFi access.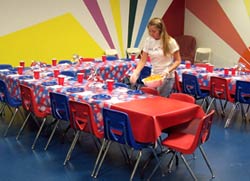 Upsells and extra services offered at Sir Bouncealots are additional bounce or party room time for private parties; party favors, pizza, drinks, cake and ice cream for private parties; and crafting kits in addition to bouncing for both private parties and weekday public admission.
The Jakobers employ a variety of marketing methods including direct mail (independently and through local magazines and coupon guides); e-mail marketing to their subscriber database, which is currently 1200; sponsorships and donations for raffles and booths for local schools, events and charities; and signage at their facility to promote events and services.
Safety is a priority at Sir Bouncealots. "Three staff members monitor children's locations and behaviors in accordance with the posted rules at all times. Also, we have sirens on all exits other than the main entrance/exit so staff are alerted if anyone tries to enter or leave from those locations," said David. All equipment is cleaned and sterilized nightly using a hospital grade commercial cleaning solution.
We like that it is OUR business and we control all aspects of its success or failure. Plus, we work close to home and get to spend more time with our children despite working more hours from when we were in the corporate world.

David, owner Sir Bouncealots
The pleasures of owning a business are many and challenges are few, according to the Jakobers.
On the downside, David only mentions the start-up phase and its inherent stresses. "Well," he chuckled, "badly behaving children (and parents) can also be a challenge."
This article was published in the Sept/Oct 2006 issue of the Tourist Attractions & Parks magazine.