Inflatable Business Plan For Indoor Jump Centers

If you got your research together it's now time to start writing a business plan! First determine the primary focus of your center. What service will you focus on to pay the bills? Parties, open jump, food sales, or retail sales. Some of these questions may seem very obvious, but the point is to put it in writing. Even if you do not need financing, a good business plan will really help you organize and stay on target.
Below is a complete indoor jump center business plan template specifically written for and successfully used to open indoor inflatable jump centers.
This business plan is already completed and ready to use - it even comes with comprehensive and complete financial statements! Simply review the complete plan body (Word document) and modify it with your business name and details. Next, add your local market research and get a complete set of financial statements (Excel spreadsheet)! Use this plan as your own, or use it to add the missing pieces to the one you have been working on.
This package is aimed to help ease and simplify the task of completing this critical component of starting any new business.The financial statements are user-friendly, yet comprehensive and accurate within today's fun center industry. As you modify your financial statements – your income and expenses, cash flow and revenue projections are automatically updated. This template includes the following sections:
Specific to Indoor Jump Centers

27 Pages of Text + Financials

Includes notes and explanations throught the document.

Files are in Microsoft Word and Excel versions.

Works on PC and Mac.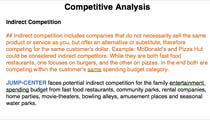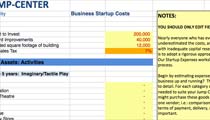 Company Description
Business Overview
Goals and Objectives
Strategy
Location and Facilities
Ownership and Management
Staff Requirements
Training
Market Analysis
Industry Description and Outlook
Industry Analysis
Market Trends
Target Market
Demographics
Competetive Analysis
Indirect Competition
Direct Competition
Value Proposition
Competetive Advantage
Marketing Plan
Market Segmentation Strategy
Product Positioning
Pricing Strategy
Promotional Strategy
Website and Social Media
Growth Strategy
Financial Statements
Business Start-Up Costs
Financial Assumptions
Cash Flow Year 1
Cash Flow Year 2 – 5
Income Statements Year 1 – 2
Return On Investment
Instant Download! – $99 Purchase Below
Fast, easy, secure payments by PayPal.
No PayPal? No Problem! You can use any major credit cards to make your purchase.


DISCLAIMER: Although the information in this document is presented in good faith and believed to be correct, InflatableStartup.com makes no representations or warranties as to the completeness or accuracy of the information. Furthermore we do not and cannot guarantee your jump center will be successful or that you will qualify for funding based on this business plan. You assume full financial risk when you start your own business. The success of your jump center depends solely on you.