All-In-One Startup Package for Indoor Jump Centers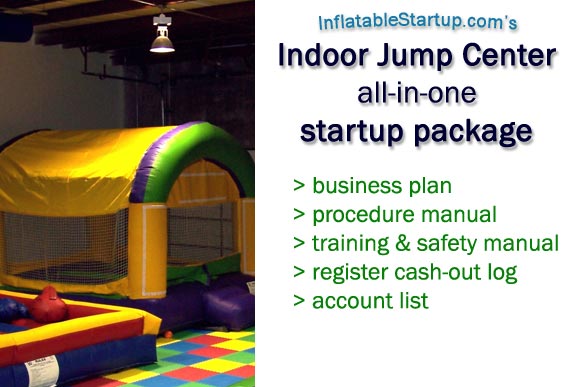 Your startup package includes the following:
Business Plan for an Indoor Jump Center – $99
This business plan is already completed and ready to use - it even comes with comprehensive and complete financial statements! Simply review the completed plan body (Word document) and modify it with your business name and details. Next, add your local market research and get a complete set of financial statements (Excel spreadsheet)!
Procedure Manual – $49.97
This procedure manual is a 21 page document containing the mission statement, party room setup, cleaning procedures, job descriptions and injury procedures.
New Employee Training & Safety Manual – $29.97
This training & safety manual is 3 pages long and consist of 24 question/answer scenarios that cover employee duties, what to do in case of emergencies, as well as safety and cleaning procedures.
End of Day/Shift Cash Out Log – $17.47
This register log can be used with any stand-alone register machine and includes morning, mid day, and night/close out sections. Set up in excel format, easy to print 1 page layout, password protected to prevent employees from making changes.
Account List for Accounting Software – $17.47
This account list consists of 107 individual accounts along with associated account type and tax line that can be used along with any accounting software on your computer.
THIS PACKAGE HAS BEEN UPDATED!
 LIFETIME Access + ALL Startup Documents