Cash Register and Front Desk Setup for Your Business
When it's time to setup your front desk counters and the cash register there's a few things to consider.
1. Convenience
Your front counter and register should be located in a convenient and accessible location. If you have the space, it's not a bad idea to have separate counters for the register and birthday party sign-ins. That way it won't get too crowded behind the counter on busy weekends. During the week its easy to keep track of customers as they walk in, and pay admission, but on the weekends when it gets super busy it's a different story. With a bad layout it may be tougher than it needs to be to keep track of who's paid and who's signed in with all birthday party guests showing up as wella as your walk-in customers.
2. Traffic Control and Safety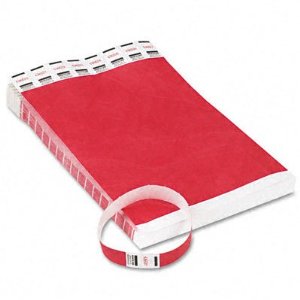 You can not have kids exiting the facility unnoticed without a parent. This is why your counter should be close to the entrance with an employee present at the counter at all times. Some centers use wristbands with matching numbers required for the parent or guardian to leave with the child, etc. I have also seen some centers use electromagnetic locks to control the entrance and exit points. The ability to set this up may depend on your building layout. You can buy a whole kit for about $150 – they even come with a wireless remote!
3. Maximize Sales
Fill your display counters with merchandise.  Some items are obvious, like candy of course, but don't forget things like disposable cameras and socks! We required everyone to wear socks – no bare feet allowed. If anyone asks, let them know its part of the health code.
4. Redemption Toys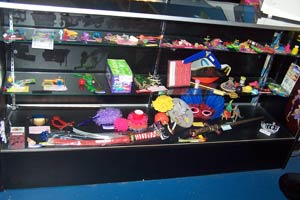 Redemption games are great because they keep the kids playing and spending tokens to get more and better prizes. If you have a large lobby, and plan on adding these arcade games, you'll need to setup a redemption counter with toys. This needs to be a separate counter form your register counter. When all the kids decide to redeem their tickets at one time it gets busy. Always make sure there's room for more than two employees behind the front desk – you will need extra help on busy Saturdays.
5. Cash Register / Point of Sale
Point of Sale systems are awesome – you can easily manage inventory, generate reports and much more, however they're also pricey. In most cases its better, at least in the beginning to get a simple cash register, and if needed, upgrade later on once you know which features of a POS system you'll actually need and use. A basic cash register will cost you about $100-$150.
Another alternative to consider is using the iPad – yes there is an app for that! You can now use the iPad to accept all major credit cards for a fee of 2.75%.  It even integrates with a cash drawer and a receipt printer.
6. Computer and Printer
You don't need anything too fancy, but you'll need a computer to print out any forms, reports, check emails, etc. You can easily use a refurbished desktop or even a laptop. If you were to use the iPad for your register, you really don't need a separate computer at the front desk.
7. Counters and Other Equipment
Before you buy brand new counters or display cases, see if you can track down some used onces. Don't wait until the last minute, keep an eye out as you go through the startup process. Check the paper or craigslist for any business closings and liquidation sales. This week we had a local Marshalls store close and move to a new location. They were selling off all furnishings, and cheap too! On craigslist you can setup an alert for keywords like "counters" or "liquidation" in the business section using a tool like notifinder. Anytime a new post contains your keywords you'll get an email, that way you don't have to check craigslist all the time. For the fridge and freezers check a local restaurant supply store, many times you can find used equipment in a "like new" condition for a great discount.
That covers the basics for setting up your front desk counters, be sure to check out the bathroom fixtures and cakeroom setup posts. If you have any questions or comments, just post them below.
4 Responses to "Cash Register and Front Desk Setup for Your Business"